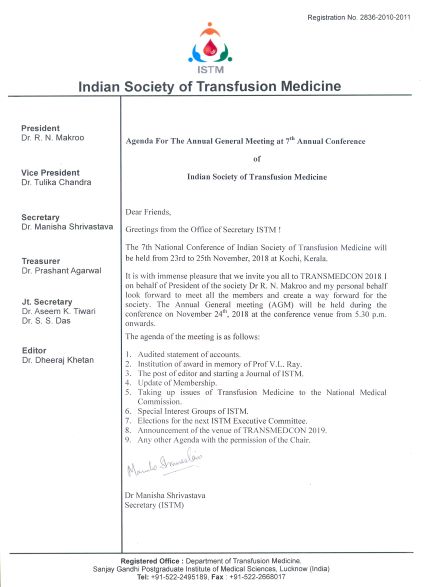 Dear Friends , Greetings from the Office of Secretary ISTM !
The 7th National Conference of Indian Society of Transfusion Medicine will be held from 23rd to 25th November, 2018 at Kochi, Kerala. It is with immense pleasure that we invite you all to TRANSMEDCON 2018. I , on behalf of President of the society Dr R. N. Makroo and my personal behalf look forward to meet all the members and create a way forward for the society. The Annual General meeting (AGM) will be held during the conference on November 24th, 2018 at the conference venue from 5.30 p.m. onwards.
The agenda of the meeting is as follows:
1. Audited statement of accounts.
2. Institution of award in memory of Prof V.L.Ray
3. The post of editor and starting a Journal of ISTM.
4. Update of Membership.
5. Taking up issues of Transfusion Medicine to the National Medical Commission
6. Special Interest Groups of ISTM
7. Elections for the next ISTM Executive Committee
8. Announcement of the venue of TRANSMEDCON 2019.
9. Any other Agenda with the permission of the Chair.
Dr Manisha Shrivastava,Secretary (ISTM)